With the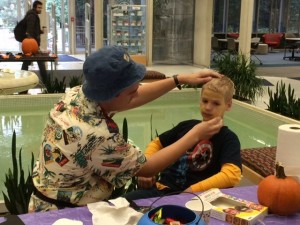 help of student volunteers and our awesome library staff, Irwin was able to have its first big trick-or-treat celebration. While we passed out candy to students and their visiting families, like several other spots on campus, we offered a few other activities and treats as well.
Because many siblings visiting for family weekend may not have packed along a costume, we provided several Halloween themed masks and offered face painting. Though our student volunteers had never face painted before, they gladly accepted the opportunity to flex their artistic muscles.
By 5:30, they were full out pros. Among the painted faces there was a pizza face, puppy, penguin, and a few other creative designs.
Though the event was advertised to students and their siblings, parents were accommodated at the Halloween festivities as well. Several families collected Halloween candy, used our coffee machine, and took refuge from the snow in our new soft spaces.
Events at Irwin are designed to show students that Irwin is an active part of the Butler community. Through events like the Halloween event and our bi-annual 24-hour study nights, students are given the opportunity to utilize their library in a totally different way. While Irwin is a place to study and do research, it is also a place in which fun, creativity, and collaboration are welcomed and celebrated.
–Akeira Jennings
Library Student Liaison