As part of our Founder's Week celebrations, Butler Libraries will be hosting a book signing with award-winning book illustrator Michele Wood!
What: Book signing with illustrator Michele Wood
Where: Irwin Library
When: Wed, Feb 5 – 4:00 – 6:00pm
The bookstore will be on hand selling copies of Michele's new book, co-authored with Nikki Grimes, Chasing Freedom: The Life Journeys of Harriet Tubman and Susan B. Anthony.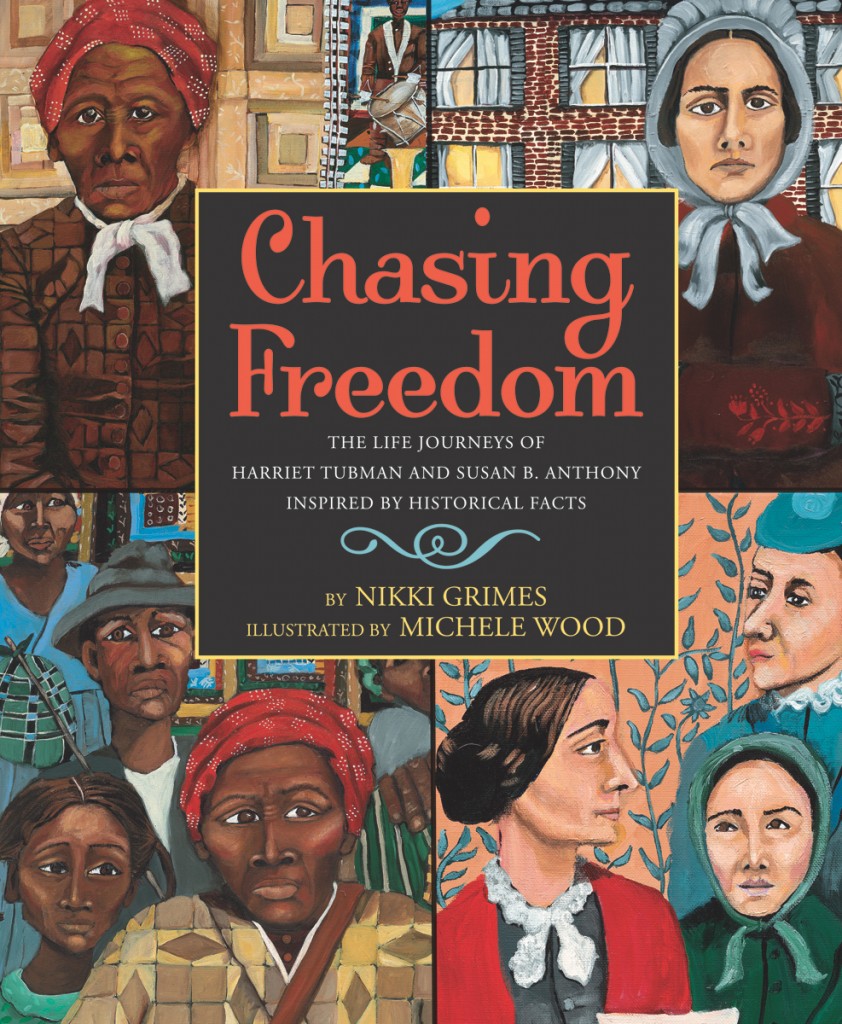 Imagine if Harriet Tubman and Susan B. Anthony reminisced about their extraordinary lives
CHASING FREEDOM
The Life Journeys of Harriet Tubman & Susan B. Anthony
By Nikki Grimes
Illustrated by Michele Wood
"A tremendous opportunity for children to understand what these women worked so hard to accomplish—one succeeding and one coming close."
— Kirkus Reviews, starred review
"Audiences willing to embrace the unusual concept, though, may view this as a vanguard piece in an engaging new form that mixes nonfiction with historical fiction."
— School Library Journal, starred review
Chasing Freedom, written by award-winning poet and author Nikki Grimes and illustrated by award-winning illustrator Michele Wood, invites curious young readers to further explore two of nineteenth century's most powerful, and inspiring American women; Susan B. Anthony and Harriet Tubman through an engaging work of historical fiction.
Chasing Freedom richly imagines the experiences of Harriet Tubman and Susan B. Anthony, illuminating historical events like the Underground Railroad, the Civil War, and the Women's Suffrage Movement. Young readers will have fun discovering this historical fiction adventure complete with breathtaking illustrations that highlight some of the most influential events, leaders, and the legislation, of that time period.
Nikki Grimes won a 2014 Coretta Scott King Honor for Words with Wings, she is the author of four other Coretta Scott King Honor books: Talkin' About Bessie, Jazmin's Notebook, The Road to Paris, and Dark Sons. She also won the Coretta Scott King Award for Bronx Masquerade and is the recipient of the 2006 National Council of Teachers of English (NCTE) Award for Excellence in Poetry for Children. Her acclaimed body of work for children includes the Orchard books Welcome, and Precious. Nikki Grimes lives in Corona, California. Please visit her online at www.NikkiGrimes.com.
Michele Wood is a painter, illustrator and designer. She won the American Book Award for Going Back Home and the Coretta Scott King Illustrator Award for I See the Rhythm. Wood lives in Indianapolis, Indiana. Please visit her online at www.MicheleWood.com.
Follow the library on Facebook: www.facebook.com/butlerlib
Follow the library on Twitter: @ButlerLib