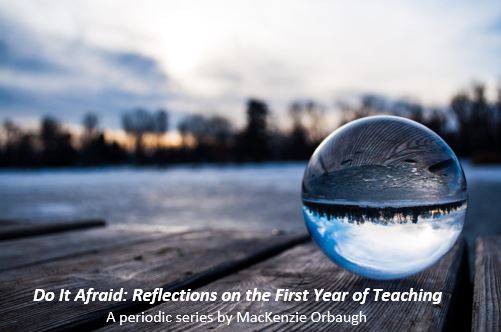 Editor's Note: Ms. MacKenzie Orbaugh is a 2019 graduate of Butler University's College of Education.  She has generously agreed to document her journey during the first year of teaching to better inform, prepare and celebrate the challenges and opportunities that preservice and new teachers face.  Her series will be featured on the Butler COE Blog throughout the 2019-20 year.  Ms. Orbaugh teaches Kindergarten at Boone Meadow Elementary in Zionsville, IN.
Blank Canvas
By MacKenzie Orbaugh
"Where do I even begin," I thought as I stood in the middle of an empty classroom surrounded by cardboard boxes. There was no rhyme or rhythm to what I was doing- I was simply just unloading boxes from my car and walking them into an empty room placing them anywhere I could find an open countertop.
Eager. Excited. Scared. Anxious. Nervous. Hopeful. Expectant. Curious.
While the boxes were filling the room, these emotions were filling my body. In the beginning there was a blank slate. A blank room, blank walls, empty chairs, furniture pushed into the corners, the only thing that truly filled the space was boxes and the feeling of the unknown about the upcoming year. So many questions flooded my mind– What will the year hold? What will my kids be like? Am I setting up my room right? Do I actually have a supportive team? Will I be accepted into this school? Will I be a good teacher and be who the kids need me to be?
Exiting student teaching I felt ready; I felt prepared to go into the education world. I was bursting with tools, excitement, and new knowledge of best practices that I could not hardly wait to begin.  But- when the time came to step foot into my own classroom, my own blank slate, I felt a little stuck. I walked around an empty school and peered into all the other classrooms looking for inspiration, or rather a feeling of assurance that what I had in mind for the way I was going to set up my future classroom was "right." When I saw other's rooms, they did not look like how I envisioned mine. Was my vision wrong? I started to second guess myself and everything that I thought I knew about the environment of an educational space.
As I walked back into my classroom I remembered a phrase a wise mentor told me to live by, "Do it afraid." Throughout student teaching I had challenged myself to live by this and get outside my comfort zone to learn as much as I could and take risks. What I did not realize was that I still needed to challenge myself to do the same. And so I began. I closed my eyes and pictured students entering the room. I envisioned them feeling confident within the walls of our classroom. I yearned to create a space that when they looked around they saw themselves, they saw their work, their faces, and their ideas. So, there I went crafting the room around the students, around what I had grown to know is best for them.
To my surprise, one day when I walked into school I had a group colleagues standing outside of my door wanting to ask a few questions about different aspects of the room. I immediately felt nervous and wondered if my answers would suffice. When interviewing for teaching jobs I proclaimed that a goal I had as an educator would be to have a "why" behind everything in my room. I want to be so reflective as a teacher that each individual part of the room is based around the students and what is best for them. So, I took a deep breath and began to answer their questions.
Not all of them agreed with what I said, but some of them did. Some of them even took different aspects back into their own spaces to try out. Isn't that the beauty of education? It does not all look the same or it is not all done in the same way, just like not all kids look the same and learn in the same way either. It is about collaboration, sharing different ideas, listening to different perspectives, and doing whatever you can to create the best environment for the kids.
So, if you were to ask me what I learned from the days leading up to the start of school, I learned you just simply start. You do what you believe is best for your students and you learn from those around you. Don't fall into the trap that just because you are a recent graduate and a first-year teacher you don't know what is good for students. Trust where you came from, trust what you have been taught, and simply just start.
And soon on the first day you will see the blank canvas come to life. Within those blank walls will be students, 21 in my case, who will fill the room with colors of enthusiasm and wonder- much more than any poster or pretty border I hung could do. There we stood, all 22 of us, on the first day in our blank canvas of a room, so what did we do next? We simply just began.