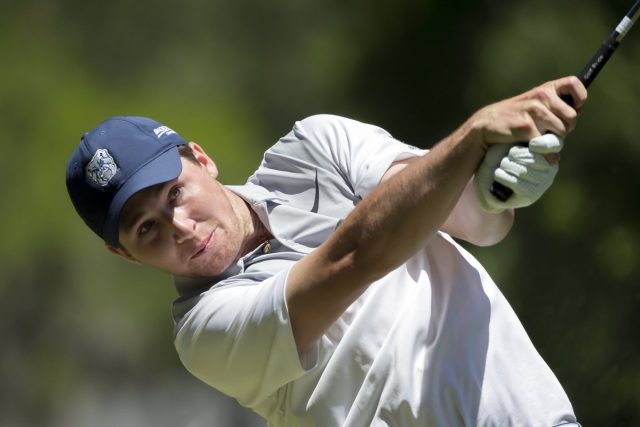 By Nick Kuster
The Butler Men's Golf team had their 2020 spring season taken away from them due to the COVID-19 pandemic that is sweeping the nation.
The Bulldogs were poised for a solid season as they returned  both All-Conference second team selections Patrick Allgeier and Logan Sabins. Both Allgeier and Sabins were seniors going into their last season with the Bulldogs.
The only good news to come out of spring sports being canceled was that athletes have been granted a fifth year of eligibility by the NCAA.
I spoke to Allgeier about using his fifth year option along with where his head was at when he found out that he lost his last season.
What was your immediate reaction following the cancellation of spring sports?
Allgeier: "My main reaction was shocked and sad, because I didn't get to cherish the moment of playing in my last college event with my team. I was shocked because of the cancellation of all spring sports wasn't what I had in mind, but looking back and even when they made the decision, I knew it was the right choice, because you don't want to have people's health at risk."
Describe how the cancellation of the season impacted the team?
Allgeier: "It impacted the team in a similar way like it did mine, just getting our season cut short and we weren't able to soak in the moment like we might have if we knew it was our last match, also it impacted us because we weren't able to play and practice together in the spring to create even more memories and fun times we have as a team at practice and team trips."
What is your favorite memory while playing golf at Butler? 
My favorite memory of playing golf at Butler would have to be the team trip we took to Scotland and us going to play at conference in Callawassie, SC. Both of those are my favorites, because they were so different. Scotland was awesome, because we were able to see where the game was invented. Then conference is always a blast because the team is trying to win and the spectators at the course are awesome and so welcoming to us. The other memory is just the people I have met with golf and at school that I will be able to look back on for years to come.
Allgeier does not plan on using his fifth year of eligibility. He instead wants to try to accomplish what he has always dreamt of, playing professional golf.
Allgeier plans to go through the mini tours and attempt to qualify and win events to where he can then play one day on the PGA Tour. If that does not work out Allgeier still wants to find a way to work in the golf industry.
As for the Butler Bulldogs golf team, they will return to the golf course as a team during the spring of 2021.