Butler Blue III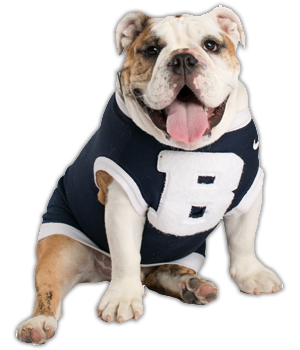 AKC Registered Name
: Butler Blue III
Nickname: Trip (short for "Triple")
Breed: English bulldog – male
Birthdate: Dec. 23, 2011
Weight: 62 lbs.
Fur Color: Red Brindle & White
Favorite Treats: Holistic Select snacks and Hinkle Fieldhouse popcorn
Favorite Toys: Antlers, bones and balls
Favorite Activities: Campus events, rough-housing, skateboarding, cuddling and lying on the couch
Pet-Peeve: Being left at home
Best Tricks: High-five, crawl, and dead dog
Personal Motto: "Bulldogs Ever Do or Die!"
Occupation: Official Mascot, Butler University
Tagline: The Beast of the Big East
Official Breeder: Kong King Kennel – Frank & Jean King, Lizton, Ind.
Official Vet: Dr. Kurt Phillips '92 – Mass Ave Animal Clinic, Indianapolis, Ind.
Official Food Sponsor: City Dogs Grocery – Susan Smith, Indianapolis, Ind.
Official Food Provider: Holistic Select Brand by WellPet
Official Groomer: Good Dog Hotel & Spa, Indianapolis, Ind.
Official Trainer: Bark Tutor School for Dogs – Meggan Talarico, Indianapolis, Ind.
Official Clothier: Nike
Transportation provided by Don Hinds Ford and the "Blue Mobile"
Miscellaneous Support: Follett Corporation (Butler Bookstore), Indianapolis, Ind.
First Day as Mascot: February 18, 2012
B
utler Blue III, also known as "Trip," was born Dec. 23, 2011 in Lizton, Ind., by breeders Frank and Jeanne King, owners of Kong King Kennel. Weighing just 13.5 ounces at birth, Blue III is an AKC registered male English Bulldog like his predecessors. He is distinguished by his red brindle and white markings passed on by his parents, Sire, Ch. Exact Classic Comet, and Dam, Kongs Sarah.
Also of note, Blue III is the great grandson of Ch. Cherokee Legend Rock, one of the nation's winningest and most decorated English Bulldogs of the last decade and of all time. Fitting lineage, since Blue III worked closely with Blue II to learn the true art of being "America's Dog" on and off the campus of Butler University. Now an recognized AKC Canine Good Citizen, Blue III has assumed the primary role of official mascot for Butler University.
Like his predecessor, Blue III also lives with Michael Kaltenmark '02, director of Web marketing, and his wife Tiffany. In addition, Blue III enjoys great care and support from Bark Tutor, City Dogs Grocery, Don Hinds Ford, Good Dog Hotel & Spa, Holistic Select, Nike, WellPet, and Dr. Kurt Phillips' 92 of Mass Ave Animal Clinic and Woodland Animal Hospital.
Meet the dogs that came before! These are the dogs that started it all.
If it weren't for these fine animals, the mascot program at Butler University would be a shadow of what it has become. These proud dogs of old embody the spirit of Butler University.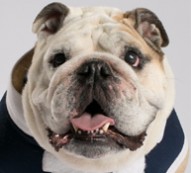 Butler Blue II
Nickname: Blue
America's Dog
Dates of Service: 2004-2013
Meet Blue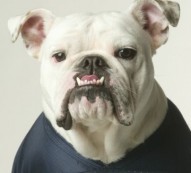 Butler Blue I
Nickname: Blue
The First of Many
Dates of Service: 2000-2004
Meet Blue