Tour Itinerary
Find Out Where We Are and Where We're Going!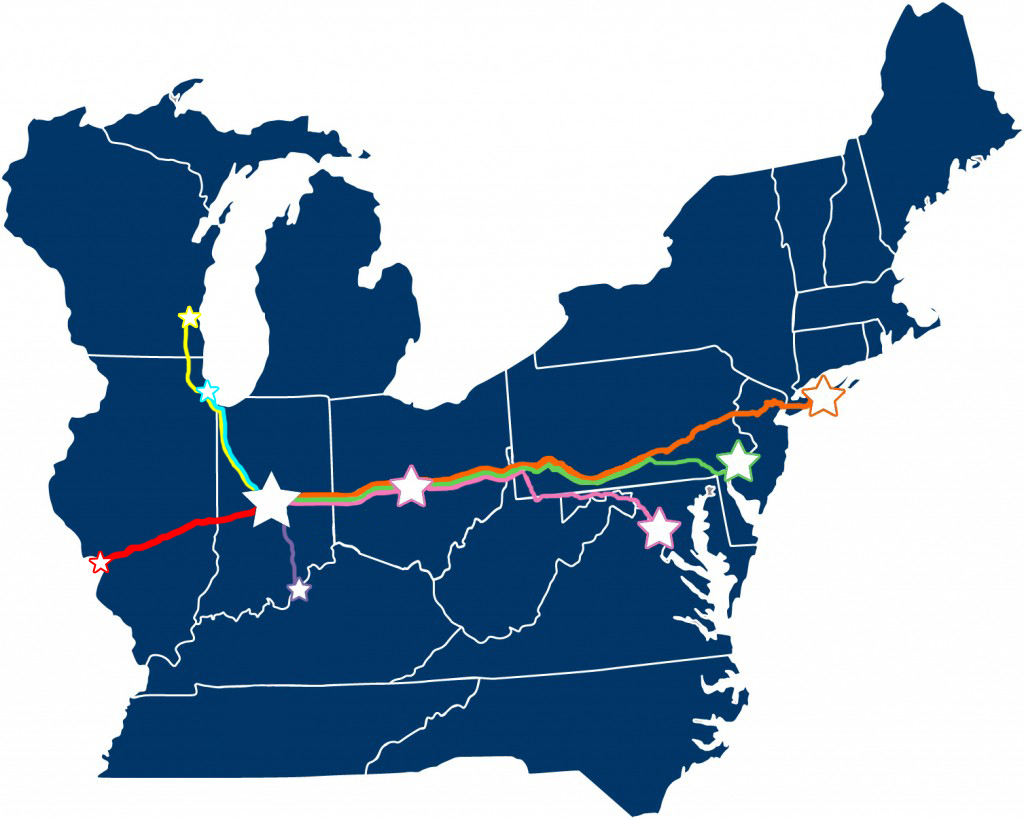 Jan. 2-4, 2014
Indianapolis – St. Louis – Chicago
Butler Admission Reception: Hilton at the Ballpark, St. Louis – Jan. 2, 2014
Butler Admission Reception: Crowne Plaza Chicago O'Hare – Jan. 4, 2014 
The first leg of the Big Dawgs Tour has Blue III on the road early in the New Year and headed to the Land of Lincoln for a pair of receptions hosted by the Butler University Office of Admission.  Look for Trip in St. Louis on Jan. 2, in Chicago on Jan. 3-4, and catch up with him at some of the locations listed below.
St. Louis – Jan. 2, 2014
Saint Louis Science Center (Meet & Greet – all welcome): 11:00 a.m. – 12: 00 p.m. 
AKC Museum of the Dog
The Magic House Children's Museum
Ted Drewes Frozen Custard
City Museum
Chicago – Jan. 3-4, 2014
Groupon
Chicago Skydeck
Millineum Park
Bad Dog Tavern
Jan. 14 & Jan. 21, 2014
Indianapolis – Fort Wayne
Butler Admission Reception: Grand Wayne Center – Jan. 14, 2014
Blue III heads Fort Wayne on January 14th and the bulldog will be getting an official welcome to the city from his friends at the Visit Fort Wayne headquarters. Fans can join Trip there for a "Meet & Greet," from 11:00 a.m. – noon. All are welcome to come to the Visit Fort Wayne Offices to meet Trip!
Additional Fort Wayne stops will include the Lutheran Children's Hospital, Science Central, and Fort Wayne's Famous Coney Island Coney Island. The day will conclude with an Office of Admission reception at the Grand Wayne Center.
Indianapolis – Providence
Butler MBB V. Providence: Jan. 20 -21, 2014
A quick trip to Providence signifies a pair of firsts for both the Big Dawgs Tour and Blue III, as air travel is involved. Trip will board a Butler Men's Basketball chartered flight bound for Rhode Island and take to the friendly skies. The flight will be Trip's maiden airplane voyage and the first time that a plane has served as a mode of travel on the Big Dawgs Tour.
Trip's time in Providence will be brief, but most fans will be able to catch him on the FOX Sports 1 broadcast. He is also planning a meeting with fellow English Bulldog mascot and social media friend, Tupper, of Bryant University.
Feb. 3-5, 2014
Indianapolis – Milwaukee – Chicago
Butler MBB V. Marquette: Feb. 4, 2014
The Big Dawgs Tour heads back through Chicago and along the western shores of Lake Michigan on it's way to Milwaukee as the Bulldogs have a showdown with the Golden Eagles.
The return visit to Chicago also features a stop at Follett, Inc., Butler University's bookstore operator and merchandising partner.
Feb. 6-9, 2014
Indianapolis – Pittsburgh – Washington, D.C.
Butler MBB V. Georgetown: Feb. 8, 2014
Last year's Big Dawgs Tour most memorable moment included a visit to Georgetown University and an iconic photo of bulldog mascot royalty. Fondly referred to as the "Bulldog Summit," this stop produced photos staged between Georgetown University's bulldog mascots, Georgetown Jack and JJ, and Butler Bulldogs, Blue II and Blue III. The pictures enjoyed immediate viral success and captured headlines.
Now Blue III returns to meet the new Georgetown Jack and looks to make his way around the Nation's capital to revisit landmarks of American history.
Feb. 25-28, 2014
Indianapolis – Philadelphia – Hershey
Butler MBB V. Villanova: Feb. 26, 2014
The Big Dawgs Tour returns to the City of Brotherly Love in late February for a Butler matchup with Villanova. Look for Blue III to reproduce scenes from "Rocky" on the steps of the Philadelphia Art Museum, sample a Philly Cheesesteak, and pose for a photo with Ben Franklin.
On the way back to Indianapolis, Trip is planning another visit to Hershey, PA and will be loading up the Built Ford Tough Blue Mobile with chocolate goodness (for his human friends, of course).
March 10-16, 2014
Indianapolis – Columbus – New York
BIG EAST Tournament
The Big Dawgs Tour wouldn't be complete without a trip to the epicenter of the free world; New York City. And on the way to the Empire State, Blue III will stop at HOMAGE in Columbus, OH for a Meet & Greet with friends and fans alike.
Highlights from Trip's visit to the Big Apple will likely include appearances at Madison Square Garden for the BIG EAST Tournament, a visit to the Majestic Theatre for the Phantom of the Opera, a look at Times Square, and a crashing of the Today Show at Rockefeller Plaza.