Tour Itinerary
Find Out Where We Are and Where We're Going!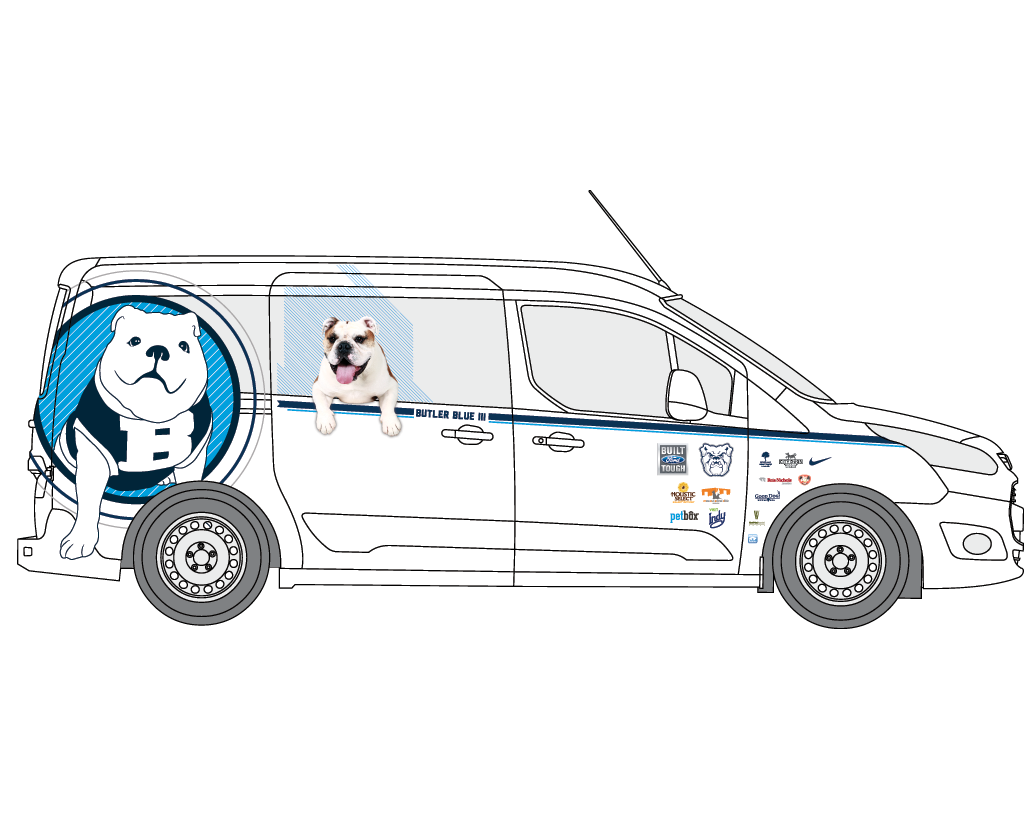 Dec. 12-17, 2014
Indianapolis – Knoxville – Chicago
Butler MBB V. Tennessee: Dec. 14, 2014
The first leg of the Big Dawgs Tour has Blue III on the road just before the holidays and headed to the Marble City and the Land of Lincoln for a photo op with Smoky, the mascot of the University of Tennessee,  and to deliver some acceptance packets to new Butler students!  Look for Trip at the big game in Knoxville on Dec. 14 and in Chicago on Dec. 16-17. You might even be able to catch a glimpse of the Blue Mobile on the road!
Jan. 15-18, 2015
Indianapolis – Washington D.C.
Butler MBB V. Georgetown: Jan. 17, 2014
Blue III heads to Washington D.C. with the Men's Basketball team for the game on January 17th. While in town, he'll be visiting his English bulldog counterpart, Georgetown Jack, catching up with Indiana Senators and members of Congress, as well as grabing photos at various landmarks and monuments.
Also, fans, alumni, and even canine friends can meet Blue III at The Cheeky Puppy in Dupont Circle (1709 Connecticut Ave. NW) on Saturday, January 17th from 9-11 AM. Blue III will be posing for pictures and offering up treats for breakfast (for people and pets) in exchange for donations for the Indiana Bulldog Rescue.
Jan. 30-Feb. 1, 2015
Indianapolis – Milwaukee
Butler MBB V. Marquette: Jan. 31, 2015
The Big Dawgs Tour gets on it's way to Milwaukee as the Bulldogs have a showdown with the Golden Eagles.
Feb. 15-17, 2015
Indianapolis – Omaha
Butler MBB V. Creighton: Feb. 16, 2015
As Butler's Men's Basketball team heads to Omaha, NE for a game, they know Blue III won't be far behind!
Feb. 20-21, 2015
Indianapolis – Cincinnati
Butler MBB V. Xavier: Feb. 21, 2015
The Blue Blob better be ready to meet his match when Blue III comes to town!
March 10-15, 2015
Indianapolis – New York
BIG EAST Tournament
The Big Dawgs Tour wouldn't be complete without a trip to the epicenter of the free world: New York City.