Big Dawgs Tour
Have Blue Mobile...Will Travel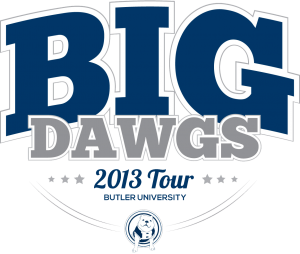 Dawgs On Tour
Butler University mascots Butler Blue II (Blue) and Butler Blue III (Trip) have put some miles on the Built Ford Tough Blue Mobile this winter, following the men's basketball team to new destinations such as Nashville, Philadelphia, New York, Washington D.C., and more!
In fact, the four-legged duo have had so much fun on their travels they're completing an encore leg of the tour in their own backyard, Indianapolis, Ind. (March 11-20, 2013)
Visiting new cities given the University's move to the Atlantic 10 Conference has been a success, so sharing some of that signature Butler Bulldog spirit close to home is sure to be a hit with the Butler faithful.
As this goodwill tour is about more than just basketball, Blue and Trip will be making many stops in the Indianapolis area to visit alumni, coporate partners, schools, iconic landmarks, and more.
Once again these furry ambassadors will be live tweeting, blogging, posting, and tracking the entire adventure on the Tour Social page as well as on Storify. Start with Twitter by searching the #BigDawgsTour hashtag and by following Blue (@ButlerBlue2) and Trip (@ButlerBlue3) there as well.
The Tour Scoop
Quick tour information can be found in the drop-down menus below and via the navigation in the left sidebar.