Big Dawgs Tour
Have Blue Mobile...Will Travel
Big Dawg On Tour
Butler University mascot Butler Blue III (Trip) rides again as he takes to the open road in the Built Ford Tough Blue Mobile on the 2015 Big Dawgs Tour.
From December through March, the beloved Bulldog mascot will venture away from campus to spread some Butler cheer and follow the men's basketball team as they take on BIG EAST opponents and other foes in cities like Knoxville, Washington D.C., Milwaukee, Omaha, Cincinnati, and more.
As this goodwill tour is about more than just basketball, Trip will be making many stops along his travels to visit alumni, prospective students, corporate partners, law makers, schools, iconic landmarks, and America's finest tourist attractions.
Once again, this furry ambassador will be live tweeting, posting, and tracking the entire adventure by posting highlights on Storify. Start with Twitter by searching the #BigDawgsTour hashtag and by following Trip (@ButlerBlue3) on Twitter as well.
The Tour Scoop
Quick tour information can be found in the drop-down menus below and via the navigation in the left sidebar.
Visit the Tour Itinerary page for detailed information on tour dates, routes, and destinations. A listing of tour dates and stops are listed below.
Dec. 12-17, 2014:           Indianapolis | Knoxville | Chicago
Jan. 15-18, 2015:            Indianapolis | Washington D.C.
Jan. 30-Feb. 1, 2015:       Indianapolis | Milwaukee
Feb. 15-17, 2014:           Indianapolis | Omaha
Feb. 20-21, 2014:           Indianapolis | Cincinnati
Mar. 10-15, 2014:       Indianapolis | New York
Visit ButlerSports.com for more information on the Butler men's basketball schedule.
BDT 2015 Poster.pdfBesides Blue III in the flesh and fur, the talk of the Big Dogs Tour is the Swag Bags. And while there just isn't enough Tour swag for everyone, there is one item in the coveted swag bags that is available for all.
Download your own Big Dawgs Tour Poster Here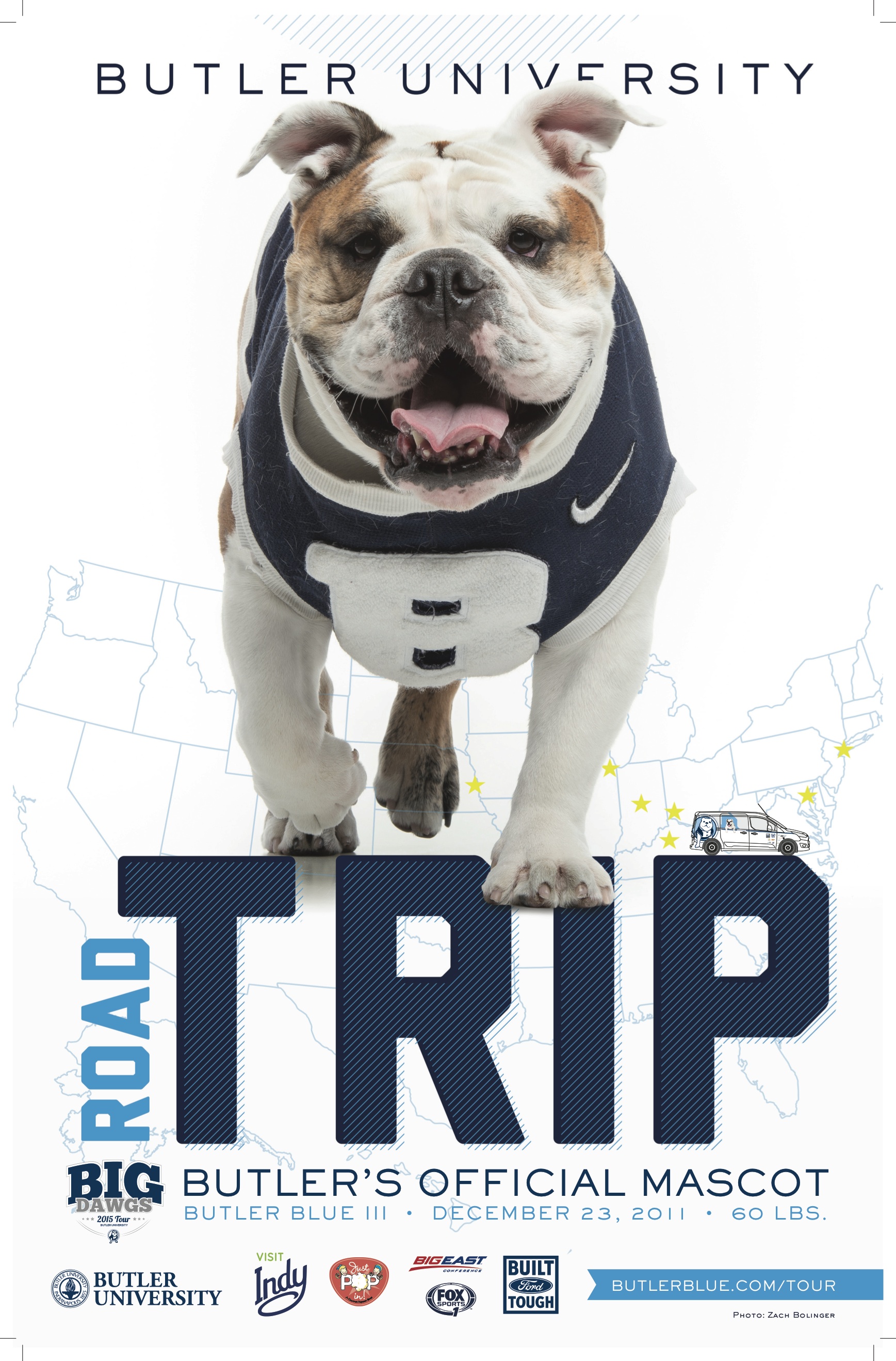 Have an idea for Blue III while on the road? Want Trip to stop by the studio for an interview? Contact their handler, chauffeur, and "Pops," Michael Kaltenmark.