WANTED:
$10,000
WHEN: BY SATURDAY FEB. 21ST
HOW: YOUR HELP!!
This week, we will be having an inspiration week to prepare us for the marathon this Saturday. Inspiration week has all sorts of fun included, but it also has a huge goal… $10,000 IN ONE WEEK! We need your help to reach this awesome goal! Donate now at: http://donate.rileykids.org/BUDM2015
We will update our totals throughout the week!!
FTK & SMC!!
PROGRESS:

$5,852.98

/$10,000
TOP FUNDRAISERS:
1. Erin Vollmer: $1,000 fundraised!
2. Kendall Theile: $635 fundraised!
3. Kelly Maddalone: $251.50 fundrasied!
4. Emma Ulrich: $203.50 fundraised!
5. Mackenzie Hrubey and Allie Parker: $200.00 fundraised!
TOP DONORS:
1. Helen Wilcox: $1,000 donated!
2. Barbara Cohen: $500 donated!
3. Robin Edwards: $200 donated!
4. Pamela Hrubey: $200 donated!
5. Sarah Amador: $125.97 donated!
Need an incentive to be a part of the fastest growing movement around the world? Well, we've got you covered this week as we will be giving away gift cards every day!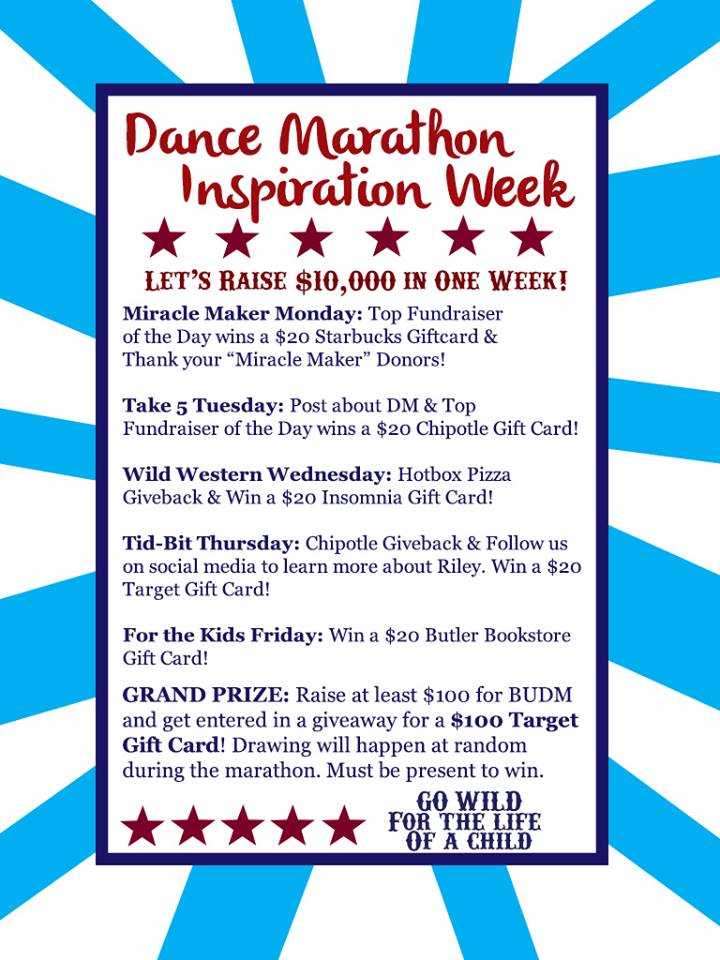 We encourage you to change your profile picture to the BUDM For The Kids picture on the Facebook event page to show campus and your friends how you are making a difference!