Meet our fantastic 2016-2017 Executive Board! 
Eric Mannell, President of Finance (emannell@butler.edu)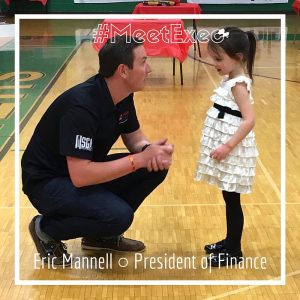 I dance because I see the bigger picture in this organization and I want to give back in whatever way I can, which happens to be through Butler University Dance Marathon.
Mary Casino, President of Internal (mcasino@butler.edu)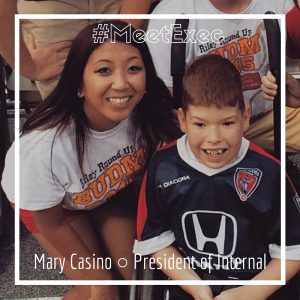 I dance to give hope for the kids that inspire me as they battle through the tough times. As we are searching for cures, Riley provides the best care for the children regardless of their ability to pay. I dance because BUDM brings our Butler community together as we make miracles happen. It is a beautiful thing to be a part of something bigger than yourself – FTK & SMC.
Jordan Galligan, President of External (jgalliga@butler.edu)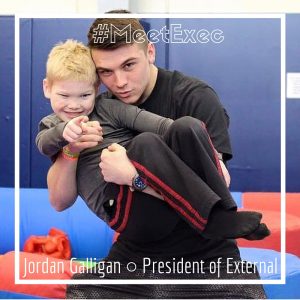 These kids deserve our everything. Standing for 12 hours is only the tip of the iceberg. Once you see the miracles that Riley produces day in and day out, that's when it hits you. This organization is bigger than all of us.
Annie Foster, Director of Fundraising (amfoster@butler.edu)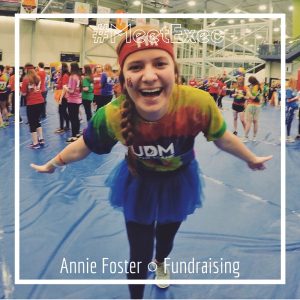 I dance because I plan on being a pediatrician and spending the rest of my life fighting for the kids—so I might as well start now.
Kelsey Kinniry, Technology Chair (kkinniry@butler.edu)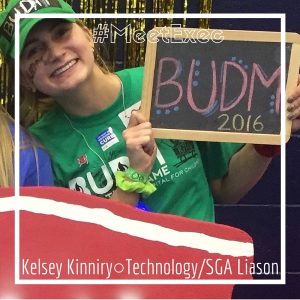 I dance because I love to share the joy of dancing with others & there's nothing better than helping out the kids!
Sarah Forhan, Entertainment Co-Chair (sforhan@butler.edu)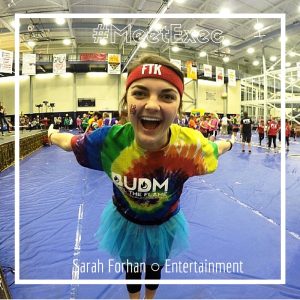 I dance to give hope back to the kids who've lost it.
Nicole Truss, Entertainment Co-Chair (ntruss@butler.edu)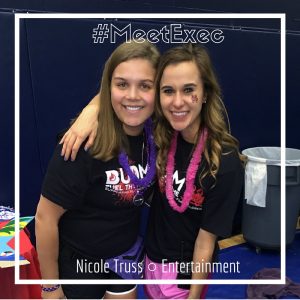 I dance simply for those who can't. I love to be able to interact with the Riley kids who can participate in our marathon, but I'm always thinking about the ones who can't be with us. It's such a great feeling to be able to hear stories and go into Riley and see first hand how our hard work has paid off.
Molly Shoffner, Operations and Apparel Chair (mshoffne@butler.edu)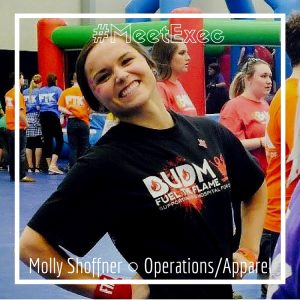 I dance for one of my best childhood friends and cousin who both live today because of the amazing doctors of Riley Hospital. There is nothing more rewarding than working with others that share the same passions as I do and getting to see the smiles on the strong Riley kid's faces at our events throughout the year. :)
Elise Broderick, Marketing Co-Chair (ebroderi@butler.edu)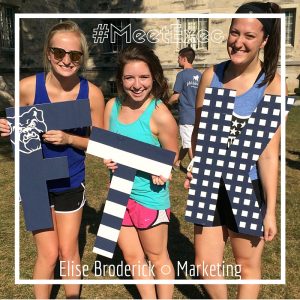 "I dance because children have taught me more than anyone else ever could.  Their generosity, their innocence, and their laughs could change the world.  Riley Hospital for Children fills the kids with hope and joy, even on their hardest days.  If dancing is going to support a cause like that, why wouldn't I dance?"
Molly Ray, Marketing Co-Chair (mdray@butler.edu)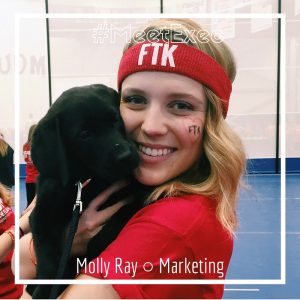 I dance because I have seen all the amazing work Riley does through family friends. Just simply participating in BUDM has given me so much and I want to give back as much as I can to this incredible cause.
Emily Nettesheim, Riley Relations Co-Chair (enettesh@butler.edu)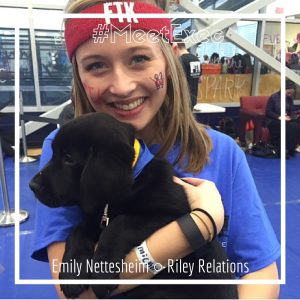 I dance because nothing makes me happier than seeing kids smile! I job shadowed at Riley last fall, and got to see firsthand the horrific diseases and conditions that no adult should go through, let alone a child. I dance because what I found so amazing while shadowing is that Riley not only finds ways to give kids their lives back, but also is such a happy, hopeful place that these families can smile in the midst of all that they are going through. 
Kendall Theile, Riley Relations Co-Chair (ktheile@butler.edu)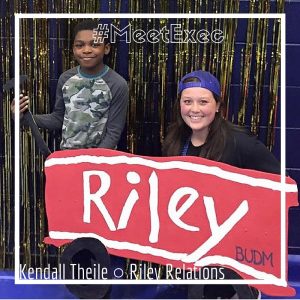 I dance to inspire hope in those that need it most and to help change children's lives, one hour at a time.
Ben Evans, Marathon Relations Co-Chair (bmevans1@butler.edu)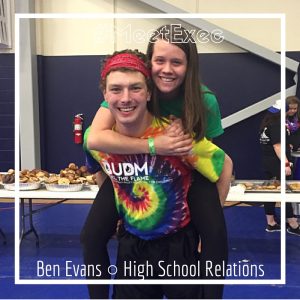 I dance because I have seen the positive, lasting impact Riley has been able to provide in the lives of so many children and their families that I want to do my part in guaranteeing that Riley's great work continues! I dance for those that can't and to bring a smile to the faces of those children receiving care.
Brooks Carey, Morale Co-Chair (btcarey1@butler.edu)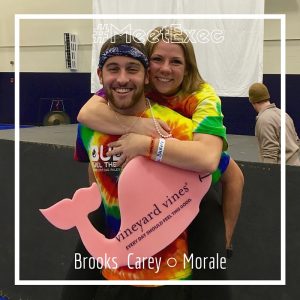 I dance for all of the children who cannot! Words cannot even begin to describe all of the wonderful things Riley does for children all over Indiana (and the country) and seeing the smiles on their little faces makes everything worth it! Serving on the exec team for BUDM has been one of the most rewarding experiences I have ever had the opportunity to do! There is no better feeling than knowing I am making a positive difference in one child's life! FTK SMC
Tanner Cline, Morale Co-Chair (tacline@butler.edu)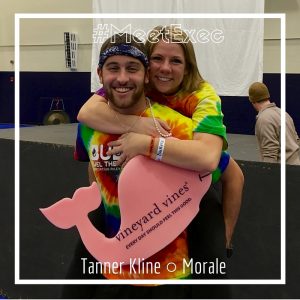 I dance because Butler University Dance Marathon allows me to give back and help families that remind me of my own and to provide them with the same hope and support that my family received when we were in the same position.
Nathan Jent, Special Events Co-Chair (njent@butler.edu)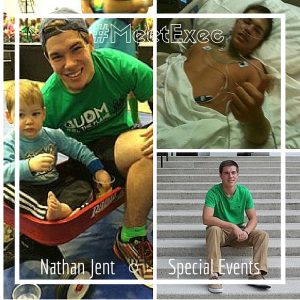 Why I dance: The reason I dance is because I myself am a Riley kid. The hospital has saved my life two times, and I wouldn't be here today if it wasn't for their care. I love the organization and all they do for the kids. I dance because I want those kids who are in Riley to have the same opportunity as me: a second chance at a long and happy life.
Sarah Thuet, Special Events Co-Chair (sthuet@butler.edu)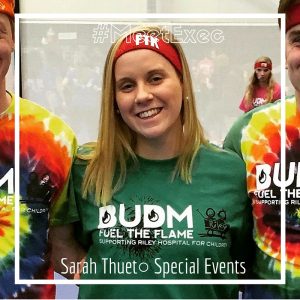 I dance for all the past, present and future Riley kids who can't. This hospital does so many incredible things for the kids and their families, so I want to do whatever I can to make sure they can continue this.
Megan Soderlund, Marathon Relations Chair (msoderlu@butler.edu)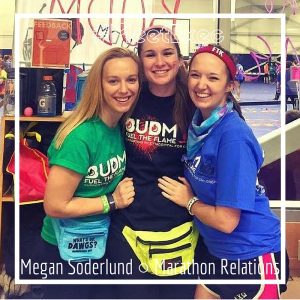 I dance to support the strongest kids I've ever met. I want to show them the family they have rooting for them every step of their journey and hopefully bring a lot of positivity into their lives.
Elaine Holmes, Director of Dancer Relations (esholmes@butler.edu)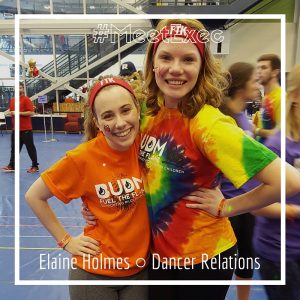 I dance for those who can't. Riley makes such a huge difference in the lives of so many people, and I am so happy to be able to help.
Meredith Missler, Corporate and Alumni Relations Chair (mmissler@butler.edu)
Trent Kabrich, Corporate and Alumni Relations Co-Chair (tkabrich@butler.edu)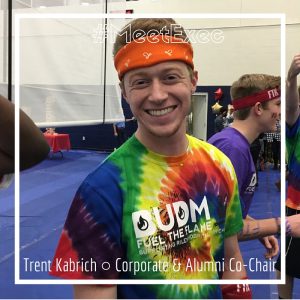 I dance for the kids because I have seen how much of an impact Riley Hospital for Children has on the patients, their families, and the employees. The donations raised from Dance Marathons have gone to assisting close friends and family friends at the hospital.