Olivia Lautzenhiser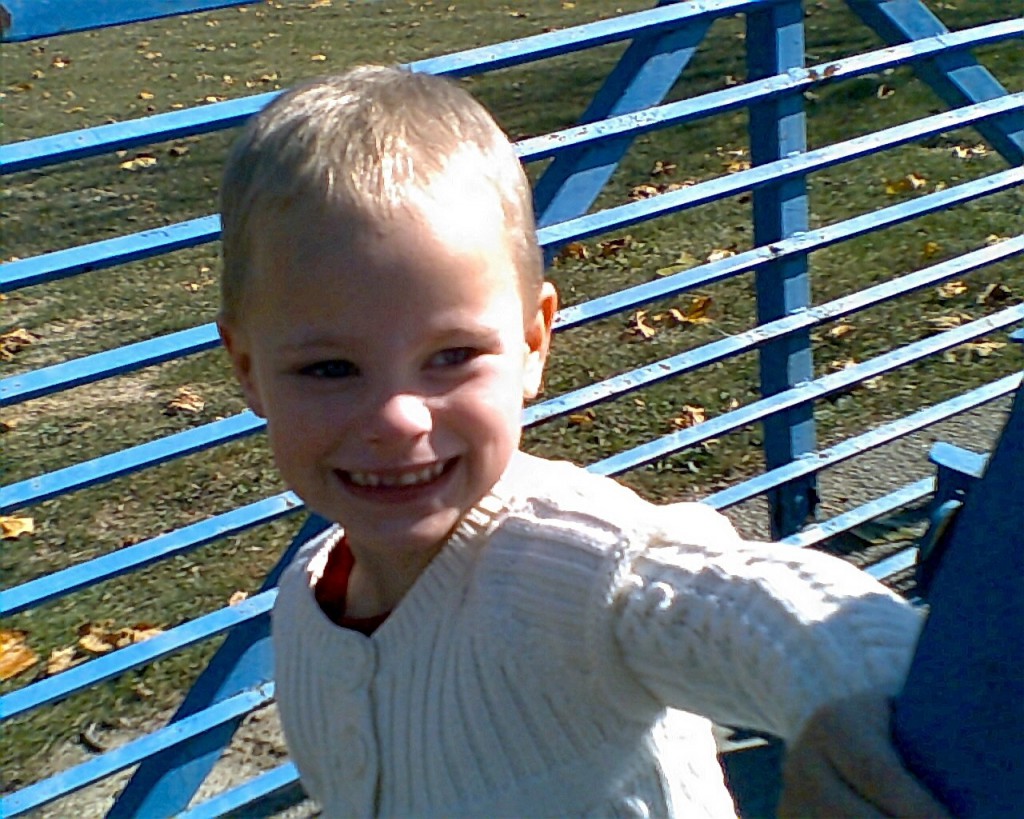 Olivia enjoys gymnastics and loves dancing and singing.  This is how her dad tells her Riley story:
Olivia was born nine days over-due after a fairly uneventful pregnancy.  She was a tiny little thing at only 5lbs 2oz.  We immediately knew something was wrong when three nurses surrounded her, all working to get her to breathe.
Once the nurses had her stable, they moved her into a bed with an apparatus on it that covered her head and helped her breathe.  We were told she had a collapsed lung and needed a bigger hospital so when she was three hours old, she was bundled into an ambulance and taken from the small community hospital in Angola where she was born to the larger hospital in Fort Wayne.  She stayed there for eleven days, getting a round of antibiotics and learning to eat.
While there, all the other parents with babies in the NICU got to know her cry.  She sounded like a kitten when she cried.
She came home with an apnea monitor (that kept track of her breathing and her heart rate) which we used until she was four months old.  In addition to the monitor, she came home crying.  And she continued to cry for about six months.
I kept insisting to her pediatrician that something was wrong.  And the doctor kept telling me that she was fine, she was small but she was eating and growing.  So what if she was always crying?
Finally, a doctor heard her cough and realized she had reflux.  She was given Zantac and that cleared up the cough and stopped her crying.
When she was nine months old, she still wasn't sitting up.  She barely had control of her head.  Again, I asked her doctor what might be wrong.  Again, he told me that she was fine, she was just a little delayed.  She'd catch up, he insisted.
I asked for an MRI.  He agreed to order it.  He was a good doctor for typical kids but with a sickly kid, he wasn't the most pro-active.  He was always willing to do whatever I asked but he never suggested anything.
The MRI came back clear.  No brain damage.
This was a relief but it also meant that we were no closer to knowing what was wrong with her.  When she was ten months old, I asked for a referral to First Steps, Indiana's early intervention program.  She was approved for therapies and began them just before she turned one year old.
With the help of physical, speech, occupational and developmental therapies, Olivia started crawling at 17 months old.
Still, I knew there was more going on.  So at her two year check up, I asked her doctor for a referral to Riley.  Olivia still wasn't walking so her doctor agreed.
We met Dr. Stanley at Riley when Olivia was two years and two months old.  She gave Olivia the most thorough exam she'd ever had.  She listened to the history, she told me, "Yes, there is something wrong with this baby."
I mentioned a syndrome I'd found when Olivia was about nine months old.  I'd mentioned this syndrome to several other doctors and they all insisted there was no way Olivia had it.
Dr. Stanley said, "I doubt very much that she has it, but let's test."
Two weeks later, we got the results.  Olivia had 5p- syndrome, also known as Cri du Chat.  She's missing part of her fifth chromosome.  This was the very syndrome I'd found so many months ago, that no other doctor would even test her for.
I feel like Riley saved our family.  Even though Olivia's syndrome isn't life threatening, it's good to have answers.  Dr. Stanley may not have saved Olivia's life, she most definitely saved my sanity.  She listened when others wouldn't.  She didn't tell me that my child was fine and would catch up.  She looked at my daughter and knew she needed more help than we'd received ever before.
I'll be forever grateful to Dr. Stanley and all of Riley Hospital for children for all they've given our family.