Birthday/Retirement Party
Blue II's Birthday & Retirement Party
Butler Blue II (Blue) will celebrate both his ninth birthday (3/27) and his ninth year of service (5/20) on Friday, March 29, 2013. Held by the Butler University Student Foundation, and hosted in Atherton Union by the Butler University Bookstore, Blue's birthday/retirement party is open to the public and will last from noon to 2:00 p.m.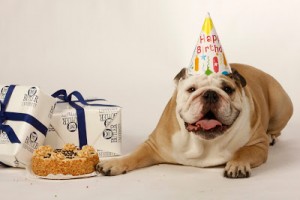 Party Details
Date: Friday, March 29, 2013
Time: Noon – 2:00 p.m.
Location: Butler Bookstore – Atherton Union
*Public welcome
*Refreshments provided by Holy Cow Cupcakes
Blue II participated in his last home Butler Men's Basketball game on March 9, 2013, where an official "Changing of the Collar" Ceremony took place between he and Butler Blue III. A review of this new University tradition is available in the Butler Newsroom and a video of the event has also been posted for viewing.
Live Web Cam
For those unable to attend the party in person, a webcam will broadcast the event live at the following Web address:
http://www.ustream.tv/ButlerBluelivecam
More Than A Party
In celebration and observance of Blue's big day, special merchandise will be available, Bookstore discounts offered, and contests being held. Additional information on these exclusive, limited time offers are detailed in the menu below.