Contact & Appearances
Dawgs in Demand
While quick e-mail and phone information is provided, specific Butler Blue related requests and inquiry information with forms are available below.
Whether you need an autographed photo, have a media request, or are entertaining the idea of a new spokesdoggy, we look forward to hearing from you.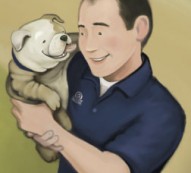 Michael Kaltenmark
Nickname: Pops
317-940-9672
About Pops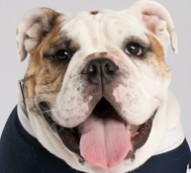 Butler Blue III
Nickname: Trip
Official Mascot
Contact Me
Autograph Requests
Blue and Trip are dogs of the people, so as a token of their fan appreciation, they offer personalized autographed pictures upon request. Simply complete the form, accessed via the button below, and wait patiently by your mailbox for your personalized Butler Blue autographed picture to arrive.
Appearance Request
Not just "Big Dawgs on Campus," Blue and Trip are also "Dawgs About Town." In fact, popularity and success of the Butler Blue live mascot program can be attributed to high visibility. Needless to say, Blue and Trip love to make appearances and would welcome the opportunity to consider your appearance request.
However, these lovable bulldogs also need their rest, have a role on campus to play and frankly, cannot be everywhere, all the time. So before making your appearance request, please consider the items below as a general rule of paw.
Blue and Trip will most likely to participate in events and activities that advance the Butler mission, including the following:
High-profile University events (such as prospective student events including BU 101 and Early Registration, campaign events and alumni/donor events).
Events requested by Butler University's president.
Butler athletic events, including home football and basketball games.
University spirit events including pep rallies and Homecoming.
Events requested by an official Butler Blue sponsor.
In select cases, Blue and Trip will make classroom visits to schools in the Central Indiana area, but as a general rule of thumb, classroom visits are not feasible at this time and are subject to approval by Butler University's division of University Marketing and Communications.However, in lieu of classroom visits, a special Butler Blue classroom poster can be requested via the form below.
http://www.formstack.com/forms/butler-blue2classroomposter
Classroom Poster Request Form
Off-campus, or private appearance requests are subject to a $100 appearance fee which goes to cover expenses related to travel and other needs of the Butler Blue live mascot program.
Additional fees for fuel or miscellaneous items may apply as well.
Media Requests
Blue and Trip have a reputation as media hounds and as such, are always eager to participate in select print and television interviews. If you're after increased ratings, viewership, readership or just eyeballs then chances are they can help. Give the public what they want…more Butler Blue!
Requests for interviews should be directed to Courtney Tuell, director of public relations, at (317) 940-9807 or ctuell@butler.edu.

Licensing Opportunities
Butler Blue is a licensed entity of Butler University and available for licensing opportunities via Strategic Marketing Affiliates. Please contact SMA directly to inquire about Blue II, Blue II and/or Butler University licensing opportunties.
For additional information on licensing opportunities with Butler's official live mascots, please contact Michael Kaltenmark at blue2@butler.edu or Lindsay Martin, manager of sports marketing & promotions, at lmartin@butler.edu.
Sponsorship Opportunities
From health care, to food, transportation and swag, the Butler Blue family of sponsors keep Blue and Trip in the ranks of pampered pooches. However, there is always an opportunity for more and with the right backing, even more marketing opportunities exist for the dogs and Butler University.
If you would like to inquire about Butler Blue sponsorship opportunities, contact Michael Kaltenmark at 317-940-9672 or mkaltenm@butler.edu
General Comments and Inquiries