REACH Week Schedule (Feb. 3rd – Feb. 7th)
Tuesday, February 3rd, 2015
"Big Questions! – How Is The New Year Celebrated in Different Faith Traditions!"
Center for Faith and Vocation from 4:00 – 5:30pm
*Discussion and free food will follow
Wednesday, February 4th, 2015
 "Dear White People!"
The movie will be showing in the Efroymson Diversity Center from 6:00pm – 9:00pm
*Free food will be available
Thursday, February 5th, 2015
"Comedian Mo Amer!"
5:30pm – 7:30pm in the Reilly Room
Friday, February 6th, 2015
"Pride Party!"
Efroymson Diversity Center from 5:30pm- 7:30pm A DJ, Photo Booth, free food,
and t-shirts for all those who attend!
*Alliance will be Co-Sponsoring with us for this event.
Saturday, February 7th, 2015
"Pre-Dinner for Gospel Fest!"
P
re-dinner at 5:45 PM in AU 302
Gospel Fest will be located in Clowes Memorial Hall
Performances will begin at 7:00pm
*Only 15 spots available! Sign up in the PuLSE Office on January 29th at 11:00am.
The Whole Week
The Race Experience Kiosk will be available for all of R.E.A.C.H Week.  The Race Experience Kiosk will be placed in Irwin Library on the main floor.  Students will be able to take photographs of themselves at the kiosk, the kiosk will then create photographs of that individual in four different races.
Over the last few years, SGA's REACH Board has continued to program larger and more traditional programming for students here at Butler. In beginning with the Taste of Diversity Series, this has grown to become one of the most recognized aspects of SGA's diversity programming efforts. Every month, a different country from around the world is highlighted where typical cuisine is shared and an educational experience is provided through speakers and interactive activities. These events are almost always considered to be Butler Cultural Requirements where students can receive credit for attending.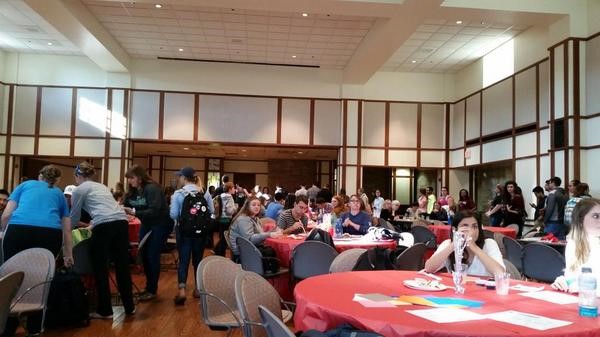 REACH Board is also proud to sponsor Butler's Mardi Gras celebration along with the campus Diversity Center and other diversity-focused student organizations. This program emphasizes the New Orleans culture and helps to include students throughout campus with a live jazz band, art creation areas, and a wide offering of food.
Lastly, this board collaborates with other groups in SGA to provide large-scale programming that will be attractive to all students. In December of 2014, REACH and Program Boards co-sponsored the campus speaker Laverne Cox, the star of Orange is the New Black. The event was held in the campus Schrott Center with over 400 students in attendance to hear about her powerful story of love, acceptance, and change.